Is a finely pulverized, dry, dolomite limestone used to control soil pH.
Quickly neutralizes soil acidity to provide the best environment for plant growth.
Supplies calcium and magnesium, two very important plant nutrients.
Can improve both fertilizer and herbicide effi ciency by producing recommended soil pH levels.
Has been designed to be applied with spinner-type spreaders of ag lime..
Purity Comparison

| | |
| --- | --- |
| Calcium Carbonate CaCO3 | 54.8% |
| Magnesium Carbonate MgCO3 | 30.0% |
| Total Carbonates | 84.8% |
| Other (no neutralizing value) | 15.8% |

| | |
| --- | --- |
| Calcium Carbonate CaCO3 | 53.5% |
| Magnesium Carbonate MgCO3 | 42.0% |
| Total Carbonates | 97.5% |
| Other (no neutralizing value) | 2.5% |
Chemical Analysis
| | |
| --- | --- |
| Calcium Carbonate Equivalent (C.C.E.) | 105.6% |
| Calcium Carbonate (CaCO3) | 53.5% |
| Magnesium Carbonate (MgCO3) | 42.0% |
| Total Carbonates | 97.5% |
| Calcium Oxide (CaO) | 30.0% |
| Magnesium Oxide (MgO) | 20.0% |
| Total Oxides | 51.0% |
| Elemental Calcium | 21.4% |
| Elemental Magnesium | 12.1% |
| Effective Neutralizing Value | 95.0% |
| Effective Neutralizing Power | 93.0% |
Time/Particle Analysis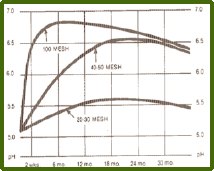 Calcium Carbonate Equivalent (C.C.E.)
| | | | | | |
| --- | --- | --- | --- | --- | --- |
| | Recommendation | | Lbs. of | Cost | Cost |
| Product | Lbs. C.C.E. per Acre | C.C.E.% | Limestone Needed | per Ton | per Acre |
| Baker | 3,000 | 105.6 | 2,841 | $26.00 | $36.92 |
| Other | 3,000 | 90 | 3,333 | 24.00 | 40.08 |
Effective Neutralizing Value (E.N.V.)
| | | | | | |
| --- | --- | --- | --- | --- | --- |
| | Recommendation | | Lbs. of | Cost | Cost |
| Product | Lbs. E.N.V. per Acre | C.C.E.% | Limestone Needed | per Ton | per Acre |
| Baker | 3,000 | 95 | 3,158 | $28.00 | $44.24 |
| Other | 3,000 | 85 | 3,524 | 26.00 | 46.02 |
Screen Analysis
| | | |
| --- | --- | --- |
| - 20 Mesh | 100% | 100% |
| - 60 Mesh | 85% | 95% |
| - 100 Mesh | 75% | 80% |
Fertilizer Efficiency
| | |
| --- | --- |
| 4.5 pH | 71% |
| 5.0 pH | 54% |
| 5.5 pH | 33% |
| 6.0 pH | 20% |
| 7.0 pH | 0% |