Limestone Supplier in Pennsylvania
Baker Lime – The Premier Pennsylvania Limestone Supplier
One of the 13 original colonies, Pennsylvania, prides itself on a storied history and the integral role it played in the inception of America. Bookended by Pittsburgh and Philadelphia, much of the Keystone State harkens back to a simpler time. With tranquil farmlands spread out across the state, Pennsylvania is rich in resources. And that's why Baker Lime chose York County as our home base, harvesting limestone of the highest quality from a dolomite-rich deposit nearby. Get bulk limestone in Pennsylvania from Baker Lime!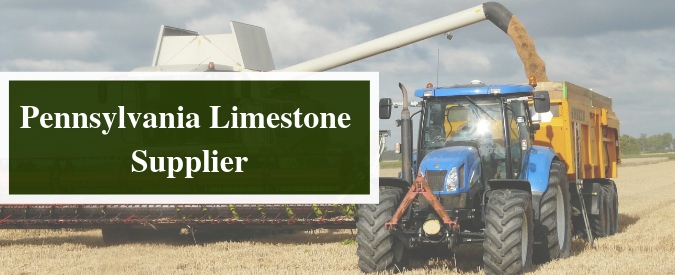 Understanding the Different Types of Pennsylvania Soil
Before buying lime in bulk in PA, you need to understand what kind of soil you're dealing with. There are six common types of soil: clay, sandy, silty, peaty, chalky and loamy. The soil that's in your yard or garden depends on where you are in the state. For example, western parts of Pennsylvania often have clay soils that are very acidic.
After you figure out what type of soil you have, you need to do a pH test to determine whether or not you need to add limestone. You can perform a pH test using a commercial testing probe or a disposable test kit. Either one will help you understand the acidity of your soil. Another testing option is contacting a local university extension office or another organization that performs soil tests in your area.
If your soil tips toward being too acidic or too alkaline, you will face a variety of problems. Specific vegetables don't grow if the conditions aren't exactly right. This is a huge problem for farmers who rely on their crops to survive. It's even a nuisance to home gardeners. Either way, working with Baker Lime, a PA limestone supplier, can help you figure out the best way to balance your soil using limestone.
The Versatility of Limestone
A versatile rock, limestone's popularity is due to the many ways it can be used, from construction applications to cement filler. This sedimentary rock can also be used as a fertilizer to control the pH of soil and encourage plant growth by reducing acidity, allowing plants and crops to get the nutrients they need. This makes the stone incredibly valuable for farmers, landscapers and botanists alike.
Limestone isn't just for people who grow their food. A lime supplier in Pennsylvania can even help you achieve the green yard you've always wanted. Limestone creates more favorable soil conditions that help it circulate air and hold water. That means your grass will grow stronger and greener. When you buy lime in bulk in PA, you can spread it by hand across your lawn to ensure your grass gets the nutrients it needs.
PA limestone suppliers can also help you get limestone that's beneficial to your animals. Horses that are boarded up for the winter have the risk of contracting respiratory issues because of ammonia. However, you can stop ammonia at its source by spreading some limestone throughout your horse's stall.
Limestone also works well for litter boxes. It's an odor and moisture-resistant material that will keep any litter box drier. Plus, cats can also suffer respiratory problems due to ammonia. Just like horses, putting some limestone in your cat's litter box can help keep them happy and healthy while giving you a cleaner litter box to take care of.
Whatever Your Need for Your Pennsylvanian Production, We Have You Covered
Baker Lime offers a variety of high-quality limestone-based products – whatever your specific need may be, we've got you covered. You can get bulk limestone in Pennsylvania by requesting a custom quote. No matter what product you choose, we make sure you're getting high-quality limestone when you buy lime in bulk in PA.
Are you looking for pelletized limestone to spruce up your lawn? Baker's Premier Pelletized Lime is perfect for any kind of spreader and leaves behind an almost unnoticeable amount of dust. The pellets are water-activated, so they'll break down into finely pulverized limestone and get to work right away. If you're looking for finely pulverized limestone, consider our damp Dolo 20 limestone that quickly neutralizes soil acidity, creating an environment perfect for plant growth. We also have a dry Dolo 20 D, which improves both fertilizer and herbicide efficiency by helping create soil with ideal pH levels.
Check out our full line of limestone-based products and order today!
The Best of the Best Limestone Suppliers in PA
Baker Lime is conveniently located in York County with multiple distributors throughout PA to offer bulk lime for sale in Pennsylvania. We source our limestone straight from a rich dolomite deposit in York County, ensuring the limestone you get is always of consistent quality. We also understand that you operate under a strict schedule, especially when you're preparing for an upcoming growing season. We'll work to get your limestone to you quickly, so you can keep your crops growing strong.
Baker Lime is your one-stop shop for pelletized lime products in PA. With 125 years of experience and an extensive inventory of the best limestone products, we're the premier limestone supplier in PA. Our bulk materials can be loaded year round, 24 hours a day, seven days a week. Find your local Baker Lime dealer and contact us today for more information on our many products or to place your order.