New York Limestone Supplier
Looking for Limestone in New York? We Have You Covered
You can't talk about New York State without talking about New York City, the most populous metropolis in the country. But there's a whole lot more to the Empire State.
In fact, the state features mountains and valleys, as well as extensive wilderness and more farms than the non-New Yorker might be capable of imagining. Yes, New York is dominated by farmland – about one-quarter of its geography – making agriculture one of the state's most important industries.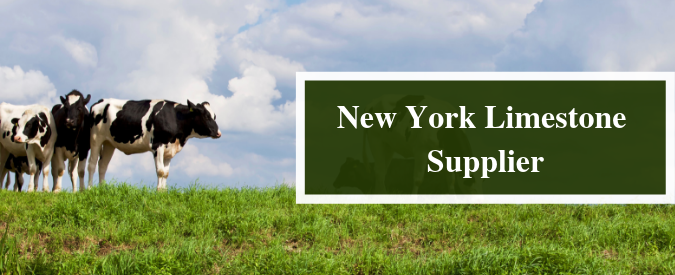 Whether you're a New York farmer or a seasoned gardener, you know a healthy yield begins with healthy soil. If soil is too acidic, plants won't receive the proper nutrients they need to reach their full potential. And that's where Baker Lime limestone comes in.
Why You Need to Add Limestone to Your Soil
Rich in calcium and magnesium – two nutrients essential to fostering healthy plant growth – limestone neutralizes acidity and controls pH levels, ensuring the best possible crop yield. Limestone also helps improve fertilizer and herbicide efficiency by producing recommended soil pH levels. When you use this crushed sedimentary rock, you're laying the best foundation possible for maximum yield results.
Choose Baker Lime for the Highest Quality of Limestone
With Baker Lime, you're getting the highest quality of limestone possible. The limestone we use boasts a 97.5% carbonate composition, while traditional limestone only has 84.8%. When you choose Baker Lime, you're getting even more of the nutrients you need for healthy plants and better results.
Baker Lime: A Superior New York Limestone Supplier
For over 125 years, Baker Lime has provided limestone of the highest quality backed by excellent customer service. We mine our stones from a dolomite-rich deposit in the heart of York County, Pennsylvania, just a few stones' throws from New York.
Whether you're looking for pelletized or pulverized limestone, damp or dry, you'll find it in our extensive line of the highest-quality limestone products. Find and contact your local Baker Lime dealer today to learn more about our limestone or to place your order. Open year round, 24 hours a day, seven days a week, we're ready to help you maximize your returns.